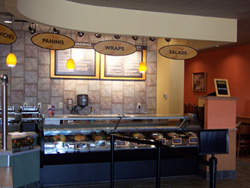 Our newly finished project is Saladworks of Doylestown. Located at Cross Keys Plaza, Rt.313 & Rt.611 in Doylestown, PA. Competed September 2005.

This project consisted of Landis & James Electric, Inc. Going in before any other work was started to remove all existing light fixture and emergency lights from the ceiling, so the demolition could begin. In a few short weeks after the lights were removed, Landis & James Electric, Inc. was beginning the rough wiring portion of the project. Rough wiring took about 3 – 4 days to complete with inspection. A few weeks after rough in was complete we started our finish work which consisted of installing a second 200 amp 3 phase panel and installing the circuit wires to the breakers and then started installing receptacles and energizing them so that all construction trades had plenty of power to do their jobs.

One week later Landis & James Electric, Inc. started to install light fixture through out the Saladworks. These fixtures included the following: Hand blown pendant lights made just for Saladworks, Juno track lights to light up menu boards, 2X4 fluorescent three tube lay-in lights for kitchen and restroom lighting, compact fluorescent recessed down lights for general lighting and wall sconces to accent the hall area. All fixtures supplied by Light Options in New Jersey. After all the lights were installed, kitchen equipment started showing up, as the equipment was put into place Landis & James Electric, Inc. began the final wiring of all equipment and began testing equipment with the installers. Within a few days Saladworks was open for business.



About Saladworks
Saladworks has a simple mission – to attentively provide the best tasting, quickest, freshest, quality food in a contemporary adult environment. Stop by any

Saladworks around lunch time and you'll understand. Our customers return again and again to experience our fresh salads topped with one of our homemade signature dressings prepared right before their eyes. Why? Because they know that our quality and service can't be beat. They know they will leave satisfied by our generous portions. They feel good about themselves because they ate a delectable meal that's good for them.

In just five short years after the "birth" of SALADWORKS, loyal customers in Philadelphia so embraced its product that Philadelphia Magazine awarded "Best of Philly" to SALADWORKS for the best "quick lunch" in the entire city. Return to Main page.



Home | About Landis & James | Portfolio | Maintenance | Client List | Services | Contact Us